Musings

நேசக்குமாரை தமிழ்மணம் நீக்கியதை இப்பதிவர் வன்மையாகக் கண்டிக்கிறார்.
Truth is Stranger than Fiction. Against purposeful lies, truth has never been so helpless, so weakly defended.
About Me
Location: Bangalore, Karnataka, India
Still trying to figure out
Links
தமிழ்மணத்தை புறக்கணியுங்கள்
ஜாதி, மத, மொழி, இன, கருத்து அடிப்படையில் மனிதவள அழிப்பை ஆதரிக்கும் தமிழ்மணத்தை புறக்கணியுங்கள்.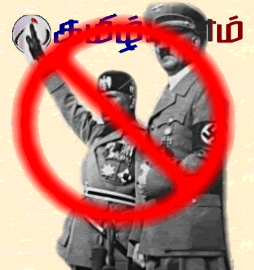 Matured Writers
Contributors
ஜாலியான வலைப்பதிவுகள்
சீரியசான வலைப்பதிவுகள்
Previous Posts
Archives
---
"This is what we call destiny. All wrong persons have very clear address even after their sojourn on this earth, but the right persons are hidden or buried even when they are alive!" - Sri Malarmannan


"Start by Doing What's Necessary, Then What's Possible and Suddenly You Are Doing the Impossible" -St Francis of Assissi

"It is not how much or how little you have matters, but how much you are with what you have matters"